Moscow, never being boring, offers plenty of opportunity to keep yourself busy the entire weekend through. Last weekend was such a weekend, involving a football match in a Dutch pub, going to a dacha and "enjoying" the
Alfabank 4D show
.
On Friday evening, the Dutch national football team played a match against San Marino. OK, perhaps "played" is not the best description. They pretty much annihilated San Marino 11-0. But then again, whereas the Dutch football assocation has over a million members, San Marino as a country has only about 30.000 people…
Now I'm not much of a football fan, so for me it was mainly about the atmosphere, which was nice :) We watched the event at
Proeverij De Nachtwacht
, a Dutch pub here in Moscow, where you can escape into the Dutch "
gezelligheid
" for a while.
On Saturday we were invited to a friend's dacha, a country house: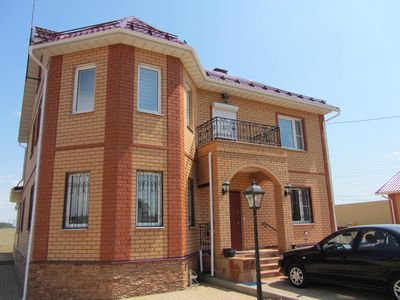 In order to escape the hectic city life and enjoy nature, a lot of Russians go to their country houses for the weekend, or for longer, to enjoy the famous Russian
shashlyk
(meat on a skewer) and to "recharge their batteries". (Most of this recharging is seemingly lost after having spent hours in the traffic jam going home.)
Finally, on Sunday, we decided to go to
Sparrow Hills
to see the
Alfabank 4D show
, an enormous projection on
Moscow's main university
. The idea was nice, really, showing projections of several famous buildings, a waterfall, a game of Tetris, and so on on such a huge building, but the execution was, well, poor… There were way, way, way too many people, so we were standing literally like sardines in a can, and instead of starting the projection/light show at 22:00, which after all was what everyone came for, some band started performing some of their songs, after which ensued about 15 minutes of, well, nothing really… When the show finally started at about 22:40 the masses had shifted in such a way that we were standing exactly behind a traffic light, which blocked most of the view…
We decided we had had enough, and wanted to go home. Good luck standing in the middle of a such a huge, packed crowd… When we finally got back to the car, we got stuck in the obligatory traffic jams such events cause. After two hours or so, we finally got home, dead tired and having to go to work the day after… So yeah, another weekend well spent :)