On our
way back
from New Zealand we visited Jeremy & Rebecca in Taipei, where Jeremy mentioned he had a business trip to Europe coming up in a few weeks, a.o. to Barcelona. We thought it'd be nice to join him for the weekend, and see beautiful Barcelona again :)
The cheapest flight we could find was at 7:00 in the morning, so to make the maximum of our weekend we decided to fly in a day early, on Friday, and work from there. The internet connection in the apartment was crap, though, so that didn't go too well… (Starbucks WiFi to the rescue :P)
Before we met up with Jeremy we took the bus up to Montjuic, where a cable car brought us even higher for a beautiful view over Barcelona.
We then took the cable car down to the beach, and on to
Parc de la Ciutadella
, where we met up with Jeremy.
Jeremy had never been to Barcelona, so the day after we visited Barcelona's highlights:
Park Güell
,
Sagrada Família
and
Casa Batlló
, one more stunning than the next.
The absolute highlight for me was the Sagrada Família. I had been there before a few times, but only in summer. In winter, however, the sun is a lot lower in the sky, lighting up the cathedral on the inside, creating an absolutely fantastic sight. The way the light shines through the leadlight windows was simply mesmerizing. We simply stood there with open mouths, gazing at one of the most beautiful sights we'd ever seen.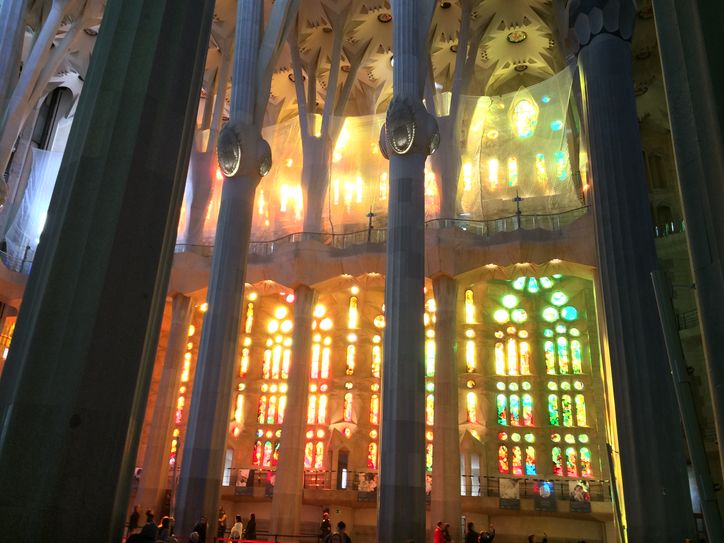 (This picture doesn't do it anywhere near enough justice…)
If there was anything in this world I would call divine, that would've been it. OK, that's enough :), but seriously: go visit the Sagrada Família on a sunny day in winter. You will not be disappointed!
It's quite interesting how most of Barcelona's highlights were designed by one and the same man:
Antoni Gaudí
. But besides those landmarks, Barcelona's sun, sea and beach provided an amazing atmosphere to wind down, and completed a lovely weekend out :)